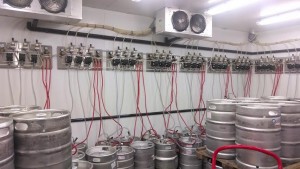 Did you know the TechMasters is the premier draft beer system installer in Lincoln and surrounding areas in Nebraska?
We have helped many restaurants solve beer problems. No more kegs that aren't cool enough or cloudy beers. We maintain glycol systems to keep your beer cool and clear from keg to tap. We are authorized installer for Perlick, Chill Rite, Perfection, and Glass Tender. We also stock several parts to get your beer system back up and running when it's down.
Want to see some of our proudest work? Just head down to Pinnacle Bank Arena, Longwells, Flatwater Bistro. Buffalo Wings and Rings, Gate 25, and many more to see the quality work we can provide you.
Interested in having us work on your draft beer systems? Contact Us now.